Live Blog: Legends Of Gaming Live
We bring you all the action from London's Next Level Gaming Festival
Joseph Perry
W!ZARD News Author
Tweet
We're here giving you the latest Live from Legends of Gaming Live 2015 at the Alexandra Palace, London. Stick around for minute by minute coverage as your favourite gamers battle it out head-to-head on Minecraft, Call of Duty, Mario Kart and more!
Later today DAN DTM, one of the world's biggest Minecraft players will take to the stage alongside Ashley Mariee, Wroetoshaw (Fifa), ALI-A (COD King), Twinsane, Calfreezy and Syndicate.
For more information please visit:
www.legendsofgaming.co.uk.
09:24
I'm here!
I've arrived at #LoGLive - ready to bring you live coverage with @wizradio throughout the day.

— Joseph Perry (@JosephPerry9) September 5, 2015
09:31
Doors have opened and the guests are flooding in. No chairs yet but an exciting day ahead.
10:01
We have began our LIVE broadcast at http://www.wizardradio.co.uk/listen. Joseph Perry and James Gilmore are presenting our Live coverage this morning from a busy Alexandra Palace. Theres just under an hour until the grand opening.
10:13
Alexandra Palace is really filling up. Looking around you can see a huge range of gaming fans from professionals to younger fans
10:24
Not long now until the opening. James and I have uncovered a Guinness World Record attempt here today. The Ali-A zone is giving gamers the chance to attempt one of the new exclusive Minecraft challenges featured in the brand new Guinness World Records Gamer's Edition (out September 10th) and relinquish Ali-A's title!
10:51
We're back. Only 9 minutes until it all kicks off. The fans keep coming in - at this rate I'll be drowning in fans!
10:57
3 minutes!
11:00
Its Calfreezy!! Part of 'The Sidemen' with KSI. He reckons he is the strongest legend in response to a question from Alex. He takes a seat with controller in hand.
11:07
Wroetoshaw's up next on stage. Starting as early as 13 he now rocks a new Lamborghini. Forget politics maybe I should start gaming?
11:10
Four young gamers have been selected to battle it out on Super Smash Brothers. Each battle will be five minutes long. Five minutes to make or break a young gamers career.
11:14
What are those?? Calfreezy is rocking a very nice pair of trainers.
11:19
The results of the first battle are in. Calfreezy is delivering his victory speech. Wrotoshaw will need to win the next game to stay in the contest.
11:23
The second game has began. A quick change of character and they're off!
11:32
Wroetoshaw has won the second game with his team of young gamers. The third game is underway.
11:34
The tables have turnedd and Wroetoshaw has won the third game and final game of Mario Smash Bros. What a turn of events! Wroetoshaw has stolen victory from the jaws of Calfreezy.
11:41
Ok so apparently you can shoot t-shirts from a cannon?! Who knew.
11:51
Youtube Legend Twiinsane with over 6m views is going to try his hand at Minecraft, trading in his violent weapons for a hammer. He is playing alongside Minecraft professional Ashley Mariee. She has said that people don't expect a girl like her to be a master of the game.
11:56
Calfreezy is also taking part. Reeling from his loss in Super Smash Brothers earlier today. The next legend to be revealed, with over 2 billion views is Dan TDM!
11:58
Dan TDM loves Minecraft because you can literally build anything. It will be quite embarrassing if he does not win.
12:00
A Minecraft Alexandra Palace has been custom built. We've all got out bets on who will win this challenge!
12:08
Ashley Mariee is the girl to beat on this time trial.
12:22
Four young gamers handpicked from an online competition will try their hand at this custom built course. If the last Super Smash Bros contest is anything to go by, its these ruthless gamers to look out for.
12:40
We're off for lunch - a mans got to eat :)
13:18
And we are back! We're joined by SD-JEM live from the Main Stage. Not long now until Call of Duty players Ali-A and Syndicate alongside two other pro players.
13:30
Syndicate and Ali-A are battling it out on Instinct on Call of Duty Advanced Warfare on paintball mode. They're both equipped with RW1s. Theres talk of headshots, 360s and no-scopes (whatever that is!)
13:35
The two Legends have moved onto BioLab map with only a shotgun to destroy the other with. The TAC shotgun has a very short range - so we should be in for the most carnage we've seen since Reading and Latitude festivals!
13:37
Okay so we've now been informed what on earth an Exo suit is. The newest feature on this Call of Duty is the EXO suit which allows players to dart across the map and hover for a bit.
13:40
The next contest is on the map Detroit. Both players are using bolt-action one shot weapons. I can't tell who is shooting who with what or why? But the audience seems enthralled.
13:44
Ali A has lost the match against Syndicate. Syndicate has the hair and the skill.
13:48
Speculation is that KSI could be making an appearance at the event. Just rumours.
13:49
Two pro players have joined the stage. These kids mean business
13:55
Syndicate looks like he means business. This four way battle has just under a minute left. The two pro players are putting up a mean fight!
13:57
This is really intense. Both players are locked in this skirmish, eyes glued to the screens. On air James is joined by SD-JEM and they're discussing the whole trend of watching people playing video games. With the launch of Youtube Gaming, the gaming video platform leaders Twitch might have to budge up.
14:03
Syndicate has won the contest against Ali A by a mile.
14:06
Up next at
14:15
is the Mario Kart Final Playoff between Syndicate, Ali A, Dan TDM and Ashley Mariee. At the same time Wroetoshaw, Calfreezy and Twiin Sane are playing Splatoon.
About to see @ProSyndicate and @DiamondMinecart attempt a record in #RocketLeague @logtournament ##gwrgamers @GWR #LoGLive

— GuinnessWR Gamers (@GWRGamers) September 5, 2015
14:23
The Queen of Minecraft returns its Ashley Mariee. She's on stage for the Mario Kart final. Dan TDM is back with a change of clothing (says James, I'm not convinced!). Ali A is back for more action. Syndicate is on stage fresh from his victory lap after annihilating Ali A on Advanced Warfare.
14:42
The split screen insanity continues. I'm pretty sure I just saw a player transform into a cannon.
14:55
The legends have set a new world record in Rocket League with 11 goals, just beating the record by one! Exciting stuff. This was by far my favourite game that I've seen played that somehow combines racing and football. Like a child between Forza and Fifa out of wedlock.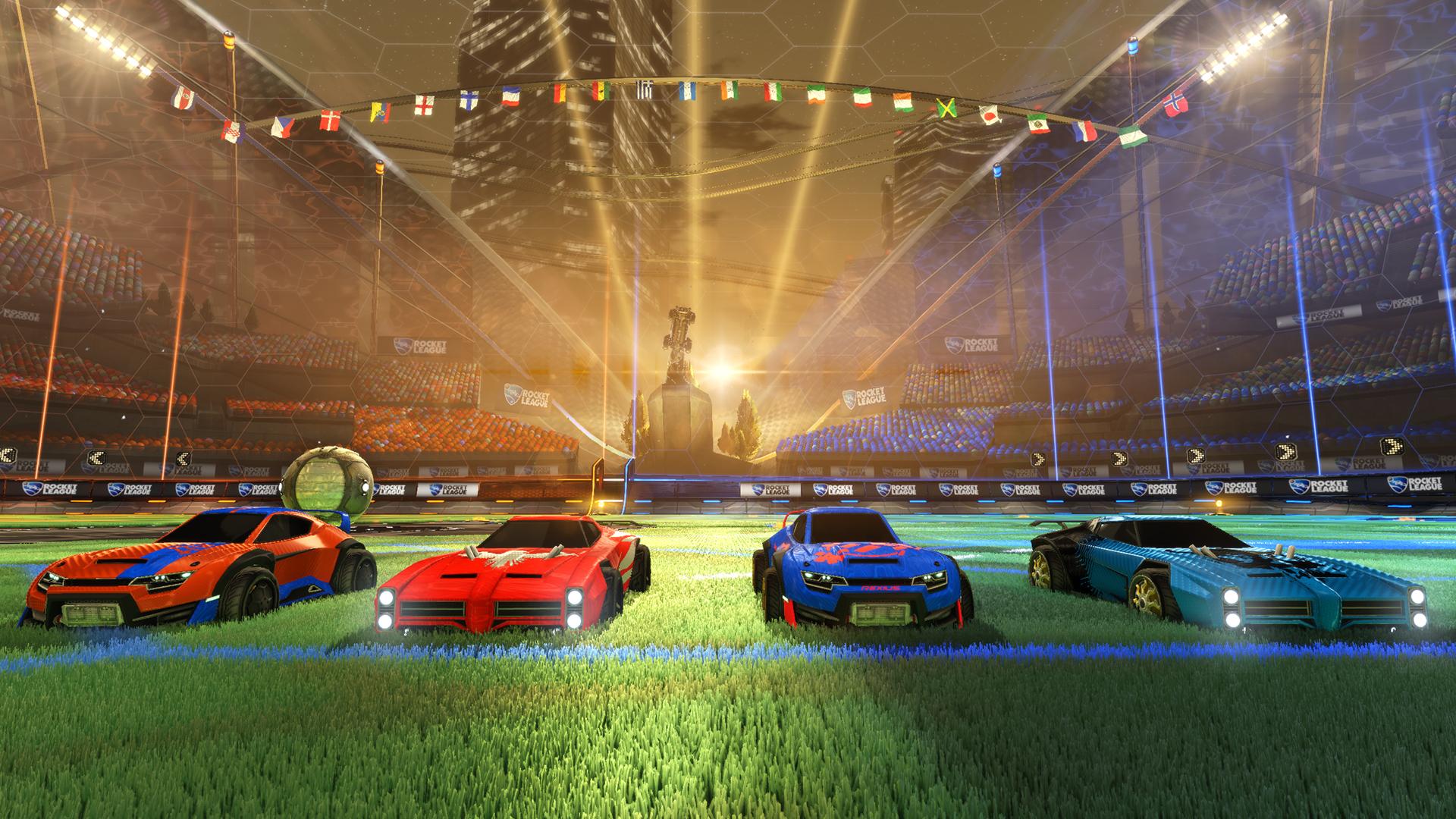 15:21
Up next at 16:15 is the Minecraft Assault Course. Out of Dan TDM and Ali-A its a tough one to call.
16:32
And Ali A is back on the main stage to a rapturous applause and a warm welcome. We are wondering how Dan TDM will be able to cope with an even harder course on Minecraft.
16:54
Ali A is ahead (only just) but they keep on dying. The audience member looks promising but neither player has got ahead at this late stage
17:08
It was a close call but Dan just got ahead at the last minute.
18:21
Pro Evolution Soccer 2016 is being tested on stage currently. A proper tactical game is expected with the players choosing Bayern Munich v Brazil. These gamers aren't messing around and have made some adjustments to the default lineups.
18:24
The away team is not letting a broken arm get in the way of their success!
This will be good. 2v2 with @wroetoshaw and @Calfreezy on PES!! #LOGLive pic.twitter.com/Z4pnKrDWkz

— Legends Of Gaming (@logtournament) September 5, 2015
18:32
Its 1-0 to Bayern but Brazil quickly equalise. At 1-1 before halftime its unclear at this point who will pull this out of the bag! Wroetoshaw wins 2-1.
19:09
Its an 8 way obliteration on Call of Duty including Ali A, Dan DTM, Wroetoshaw, Syndicate, Twinsane, Calfreezy and Ashley Mariee. A special guest has just been revealed as being
Hurder of Buffalo
. The teams are set its Team Get To The Chopper v Geeks and Freaks.
19:14
And they're playing Team Deathmatch on the map Solar. And we're off. James is looking out for those No scopes!
19:15
A few players have opted for a red dot and one has even decided to use a target enhancer. A sense of tacticality and teamwork is evident; all players have left their past allegiances at the door. Geaks and Freaks have won the first game of three.
19:19
Catch the final event at @logtournament where you can win some #3Dprinted #swag! #LoGLive pic.twitter.com/btB4mvbF3F

— MyMiniFactory (@MyMiniFactory) September 5, 2015
19:20
We return for the second match on Biolab. No noscopes yet but this is the most excited i've been all day. With juts a few minutes gone both teams are drawing on 9 kills each.
19:23
This has been a game of two halve with either side failing to make the break they desperately need.
19:24
The Legends are watching the screen. The fans are watching the legends watching the screen. And I'm watching the fans who are watching the Legends. Its been a long day.
19:26
Get To The Chopper have only just won. That means its a tie break and a deciding match is to follow.
19:28
The third game is getting underway. It would appear all players have opted for the same weapons - the akimbo dual-wield machine guns that are decimating anything in their path. This looks like something out of Terminator.
19:30
Its 15:13 but the players are just warming up to their new weapons
19:31
Only 2:35 minutes left. Its 23:24 this is anyones game!
19:32
10 seconds left
19:34
Team Get To The Chopper have it! This means Carlfreezy, Dan TDM, Syndicate and Twinsane are crowned the the Elite Tournament winners.
19:36
And Ali A is crowned winner of Legends of Gaming 2015! Twinsane are runners up.
And that's all - back to politics for me!